The eastern Borneo island of Malaysia is famous for a luxury resort accommodation, lush jungle scenery, first-class diving, and stunning beaches. Kota Kinabalu is the capital of Sabah state. Often referred to as KK, this coastal city is partly surrounded by rainforest. In the busy KK, you will soon notice a rich culinary spectrum, music scene, blossoming arts, breathtaking fiery sunsets, and fiercely locals.
Kinabalu Park
Kinabalu Park is one of the first national parks in Malaysia and in 2000 became a UNESCO World Heritage Site. Thanks to its native mammal species and unique vegetation, this park has worldwide ecological importance. From rock climbing to paragliding, mountain biking to canopy walks, there is no shortage of outdoor activities to indulge in while in this park. For a truly adventurous experience, hike up Mount Kinabalu. The summit of this mountain is at over 4,000 meters.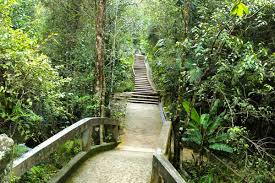 Kota Kinabalu City Mosque
This mosque is nestled beside a picturesque lagoon and is one of Sabah's most photographed sites. The design of the building was modeled after Saudi Arabia's Nabawi mosque. It can seat up to 12,000 worshippers. The Kota Kinabalu City Mosque is floating right above the lagoon. With the stars and moon reflection in the water's surface, it makes for a dramatic backdrop at night. The mosque is open to visitors of all faiths.
Muzium Sabah
The tropic Malaysia weather can be unexpected and intense with sudden rainfall forcing visitors to wait out the passing storms. Fortunately, there is no shortage of indoor cultural activities in Kota Kinabalu. Muzium Sabah is one of the most popular tourist attractions in this city. The museum compound is full of educational buildings and fun activities including a heritage village, an art gallery, a zoo, and an ethnobotanical garden. You will find many exhibitions within the museum covering topics such as history, archaeology, Islamic civilization, as well as ceramics and brassware.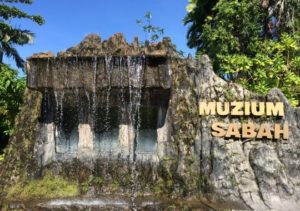 Taman Negara Tunku Abdul Rahman
Borneo is famous for its fantastic water sports activities and clear waters. The best way you can take advantage of this city's watery treasures is by visiting this national park. The area comprises 5 islands is accessible through a 20-minute speedboat ride. After exploring the island, dive into the waters to try your hand at scuba diving, deep-sea fishing, or snorkeling.
Gaya Street Sunday Market
This street was formerly known as Bond Street. It has been hosting the weekly Sunday Market in this city for more a hundred years. The street is usually shut down to allow pedestrians to have a free zone while shopping. The local farmers and artisans display proudly display their wares. Here you can find herbs, cakes, souvenirs, antiques, flowers, batik sarongs, umbrellas, and more.