Krabi is located on the southwest coast of Thailand and it is characterized by rock climbing spots and amazing beaches. This is no doubt a must-see part of Thailand.
Phra Nang Beach
This beach is on the southern strip of the Railay Bay. A twenty minute boat trip from Ao Nang or a ten minute walk from Railay East will get you to the beach. With caves, coral reef, clear water, and super soft sand, this is indeed the perfect beach.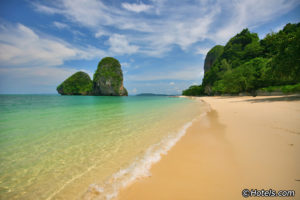 AO Nang
Ao Nang is a resort town known for its long beachfront and easy access to different sites off the nearby islands. It offers visitors the relaxed atmosphere of a small town and the beauty of a beach resort.
Khao Kanab Nam
A pair of 100m high limestone rocks rises from the sides of the Krabi River to form a critical part of the natural scenery. Any visitor to this town will get a glimpse of these iconic rocks and their tilted shapes. You can go on a boat trip to further explore the cave, this will definitely make your day.
Phi Phi Islands
This island is a superstar in Thailand. It is a popular location in TV shows, movies, and should definitely be on your must-do list in Thailand. Phi Phi Islands doesn't disappoint even with all the hype. The beauty of this island can't even be captured in photos – it is something you have to experience for yourself.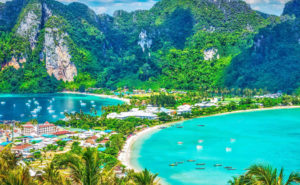 Krabi Shell Cemetery
According to local folklore, the Krabi Shell Cemetery is older than 75 million years. For those interested in historical artifacts or geology, this is a great place to visit since there are just three such cemetery sites in the world.
Krabi Town
Krabi Town is a market town that has been around long before international tourists started visiting this area. It is laid back, charming, and a great place tourists can live like locals. If you are interested in a dose of Thai hospitality and culture and hospitality, sticking around this Town can be a rewarding experience.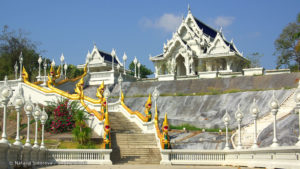 Wat Tham Sua
Wat Tham Sua is one of the finest natural wonders in Thailand. There are beautiful icons in the main temple cave, but the 'footprint of the Buddha' is the real attraction here. You need to hike more than 1000 steps up the limestone tower to get to this historic site – but the destination is definitely worth the journey!
Thung Teao Forest National Park
This national park is a great place to spot rare plants and animals that are close to extinction. The forest is filled with limestone foothills, unusual forest creatures, and medieval trees stretching into the sky.
Railay Beaches and Caves
Railay in itself is an attraction. This small peninsula can only be accessed by boat due to the tall limestone cliffs casting it away from mainland Krabi. This is the perfect destination to get away from it all. You will also get to enjoy all what the nature here has to offer.